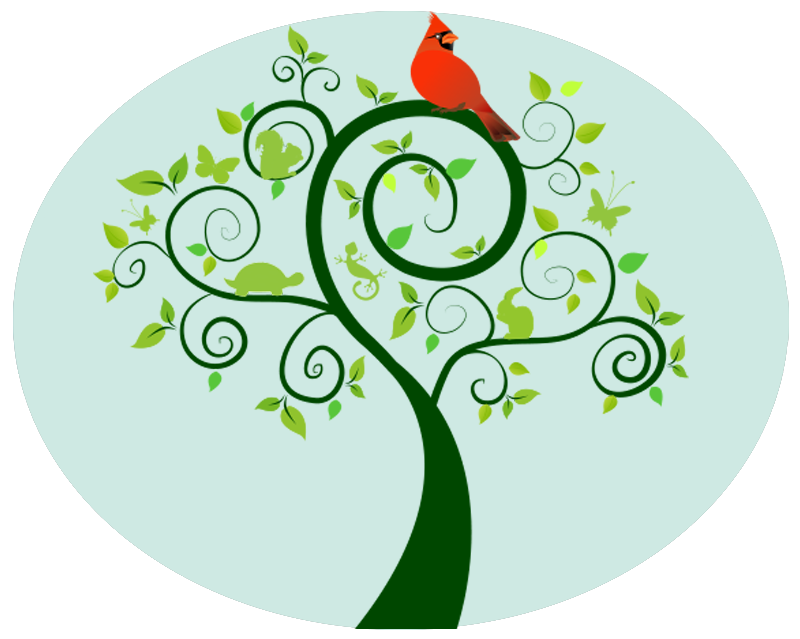 Ellis Hollow
Nature School
---
Where families create community
About
---
The Ellis Hollow Nature School provides a loving atmosphere for children ages 3 through 6 to grow and learn. Classes are held Monday through Friday mornings at the Ellis Hollow Community Center grounds, located on the Eastern side of Ithaca at 111 Genung Road. The location is convenient to Ithaca, Lansing, Dryden, Brooktondale and Freeville.

PHILOSOPHY

At Ellis Hollow Nature School, we believe children learn best through PLAY and that children need significant time in outdoor spaces to explore and integrate their skills. Our program takes inspiration from Reggio Emilia and Jean Piaget, allowing children to build their skills in a student-centered process, following their individual interests and passions. We facilitate this through social interactions, open ended lessons, serendipitous events and an environment that is conducive to experimenting and exploring. We believe each child is unique and comes to us with a certain skill set. We believe it is our job to help the individual child learn and grow within a cohesive classroom and outdoor forest community. We believe the best way to achieve this is through patience, understanding, enthusiasm, compassion and a sense of humor! We value diversity and believe that we can learn from each other. We lay the foundation for academics but believe empathy, ingenuity and an open mind are just as valuable.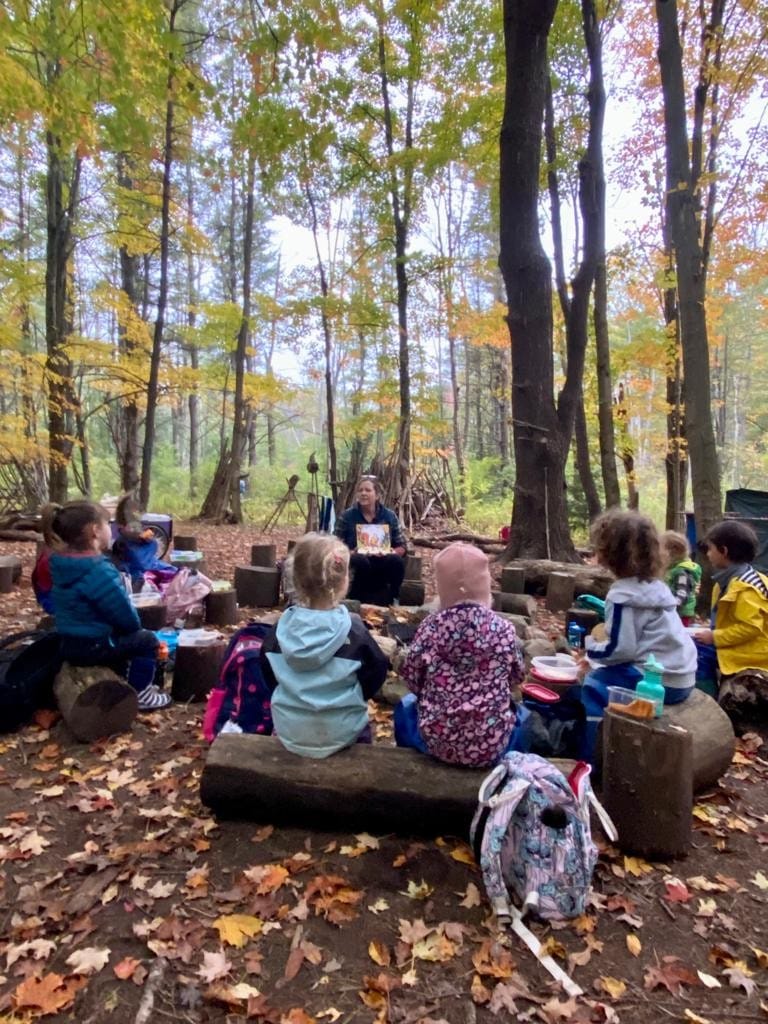 Why Our School is Unique
---
Our Teachers. Ellis Hollow Nature School has two seasoned, loving lead co-teachers from diverse backgrounds whose collaboration and creativity make for a truly vibrant, nurturing, and enriching learning experience for our children.  As the program has evolved into a hybrid forest school/play-based indoor school, the teachers have continued to learn and grow with their certification from Eastern Region Association of Forest and Nature Schools.
Our Cooperative.  By definition, "cooperative" means working together for a common goal. At EHNS, parents and teachers cooperate to provide our children a community where they feel safe so that they can flourish. Unlike other cooperatives, we do not rely on parents in the classroom. Parent responsibilities include attending 3 mandatory meetings per year, aiding in fundraising efforts, participating in publicity events, and providing snack.
Our Grounds. The School operates in the Ellis Hollow Community Center, nestled in a picturesque valley surrounded by fields, woods, streams, and ponds.  Teachers and students step right into nature's classroom.  Extensive trails, an extravagant wooden playground, and a sprawling whimsical forest camp offer many opportunities for students to learn in natural classrooms, in addition to the indoor space.
Our Playground.  Built in 1987 by local volunteers, it is by far the best kept secret for kids in Ithaca. The playground is tucked behind the Community Center in a large gated area. It is shady with swings, a sandbox, and an expansive structure of tunnels, slides, turrets and bridges. There is also a mini theater with cozy wooden bleachers, which is perfect for picnicking or putting on shows.
Our Forest Camp.  Built in 2020 by our own talented teachers AND students, this new forest camp is a haven for outdoor exploration and learning, allowing students to integrate their senses while practicing new skills and laying the necessary foundation for academic learning.  The camp is constantly evolving and growing with our students, and includes a fire pit for warmth and stories, teepees and hidden places for shelter, an outdoor theater, play kitchen areas, rock gardens, whimsical art stations, areas for archery and building, and so much more.
Our Community. The Nature School has lived in the Ellis Hollow Community Center (EHCC) since the school was established in 1953. Far more than a building,  EHCC hosts local Boy Scout and Girl Scout groups, community potlucks, Scrabble nights, outdoor movies and various other events. Every September is the annual Ellis Hollow Fair run solely by volunteers. Music in the Hollow offers free live music Tuesday nights in the summer. The Community Center Pool is open from Memorial Day through Labor Day. Tennis courts and nature trails are all open to the public.  Through Center activities, conversations at drop-off and pick-up, school fundraising and events for both families and parents, the Center allows for Nursery School families to grow friendships all year long  that can last a lifetime.  In 2020, the program expanded as the teachers created a new forest classroom, where much of the programming now takes place.
Special Program Amenities
*Two co-teachers and small class size
*Flexible enrollment days — You choose which days of the week your child will attend for the year, giving families greater flexibility to create a calendar that works best for them!
*Drop-in days — Need childcare coverage for a day other than when enrolled? We have you covered! Drop-in days are $30.
*Rain pants — Rain pants are provided for each child during the year to help with necessary outdoor gear.
*Staying after pick-up — Our school allows families to stay after and hang out. This also helps foster a tight-knit community, which is very special and unique to our School.
Our Nursery School Family
---
Our family during the school year
Ms. Ellie Biddle
EHNS Co-Teacher
Ellie arrived in Ithaca from the White Mountains of New Hampshire to attend and graduate from Ithaca College. She traveled the country, lived in Seattle, and finally returned to Ithaca where she loved the blend of nature, small town, and urban life. She substituted in the Ithaca City Schools and at Ellis Hollow Nature School, before becoming a full time teacher at the Nature School in 2007.
Ellie's richest education experiences came from her father, a naturalist and teacher; her mentor Regina Carpenter, an educator of educators; and her sons. Through them, she discovered the importance and beauty of spontaneity, curiosity, creativity, and exploring boundaries. These essential qualities are still guiding her educational philosophy as a co-teacher at Ellis Hollow Nature School.
In Ellis Hollow, Ellie found an educated, alive and active community, which she immediately felt was the very best place to raise her sons. When her boys were young, they'd spend long days at the Community Center Pool and playground. She loves that they would always see and meet friends there and they still do today. The tennis courts, community potlucks, the fields, the trails, and summer music events are still a staple of her life. She is passionate about the value of community, which is why she runs a fair booth at the annual Ellis Hollow Fair, has volunteered for years as the Pool Membership Coordinator, and is a respected member of the regular Ellis Hollow Community Center Board meetings.
Since 2007, Ellie has been creating an atmosphere where young children develop emotionally, physically and socially. For all students, she builds a safe, inviting, nurturing, challenging, and vibrant environment, whether indoors or out. Her dedication to teaching and to the families of Ellis Hollow is motivated by her experience as an early childhood educator and the understanding that children learn best when guided by their curiosity. She does this with a combination of playfulness, patience, and professionalism.
Ellie loves that every day the children take her on new adventures. Every day she loves guiding and encouraging them to go farther.
Ms. Kai Dickinson
EHNS Co-Teacher
Kai first joined the Ellis Hollow community in 2009 when her youngest of three sons started preschool. Coming with a background in early childhood education, she was soon in love with Ellis Hollow Nature School. Her introduction to teaching preschool started at her alma mater, Goddard College, where the approach to learning is student lead and experiential. This has always been Kai's modality of learning, as well as her approach to teaching.
After college, Kai landed a job at Ben and Jerry's Children's Center. There she flourished under the wings of some incredible teachers. She sought out and absorbed everything she could learn about early childhood development, emergent curriculum, learning styles, temperaments, and parental support.
Leaving the East Coast winters behind, she ended up as a lead teacher at the University of Oregon Childcare and Development Center. There she went on to teach young children, mentor work study students, and supervise teacher assistants. She became quite adept at observing children, which aided her efforts in designing and implementing emergent play-based curriculum.
As time passed, Kai became a mother herself and put her career on hold. She refers to this time in her life as one of her most valuable and precious experiences. When Kai's children were of preschool age, she looked to enroll them in local preschools, knowing that quality early childhood education is the best platform for social development and kindergarten readiness.
Ellis Hollow Nature School was discovered! A whimsical, creative, loving little school, where her youngest child thrived!  When the opportunity for her to teach at the Nature School arose, she jumped at the chance. Kai loves the grassroots, authentic feel of this parent-run cooperative school. She loves collaborating with Ellie and working in partnership with the parent board. Her passion for learning and teaching never grows old because the program is constantly evolving in response to the children's needs and interests.
Kai aspires to instill the love of literacy, music, art, nature and science in young children. She hopes to facilitate the growth of strong problem solvers and broad minded, independent thinkers. She wants to help build confidence, encourage curiosity, cultivate empathy and give her students the best possible start at a lifetime of learning.

---
Reggio Emilia Philosophy
Our teachers believe the best way to learn and to form social connections is through play, as kids are experiential learners. Kids learn by doing; their brains are constantly creating neurological pathways via their senses and interactions. Our teachers provide a classroom with a variety of experiences that will enrich a child's development and give them a firm foundation.
Curriculum
---
The Ellis Hollow Nature School curriculum is designed to enable age appropriate, self-directed exploration and discovery. The goal is to aid in the development of the whole child: cognitive, creative, motor, sensory, language, social, and emotional development. Based on the children's ideas and interests we create open-ended themes that challenge different learning styles and ages. When indoors, activity centers and circle time continually reflect those themes. When outdoors, students continue to inspire the learning, with tasks and activities inspired by their interests each day. We engage children by asking questions that help them be self-reflective and independent problem solvers. This is all intended for building children's self-esteem, as well as enthusiasm for and ownership of learning.
At Ellis Hollow Nature School, we recognize that entering kindergarten is a big step – a step that requires more from our young children than any other time in history.  Our goal is to provide graduating preschoolers with the building blocks for success in kindergarten and beyond. We work towards this through play and fostering natural interest. Our multi-age program supports this process, when older students model and spark interest in their younger classmates. On their own timetable, the children develop early literacy skills – letter recognition, and phonemic awareness – and early math skills – an understanding of patterns, ordinal counting, and number recognition. As experienced early childhood educators, we follow the children's cues, scaffold their learning, and facilitate the growth of self-help and peer problem solving skills. Our children become self-sufficient, confident, and strong problem solvers.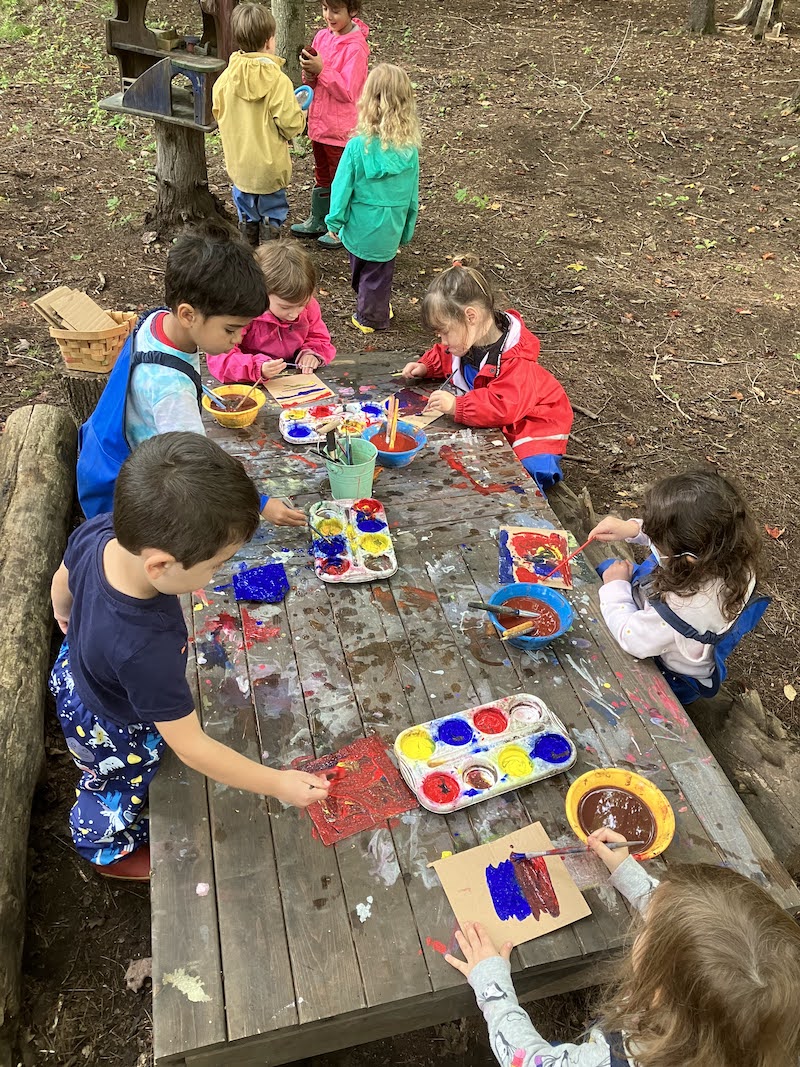 Parent Participation
---
The Nature School is a non-profit cooperative. The school is run by a Board of parents who volunteer each year to serve, in close collaboration with the teachers.  All families are involved in decision making through parent meetings.  Parents are welcome, but not required, to participate in daily classroom activities. Parents and families also gather together for community celebrations of student life throughout the school year.
Fundraising efforts are important to contribute to the overall budget and to allow for the flexibility to respond to unexpected expenses. A portion of fundraising proceeds are dedicated to teacher wish-list items, including classroom materials that the teachers use to enhance the learning experience at the School. Another portion goes toward needs-based scholarships for interested families.
The School is supported by tuition payments, fundraising, and parent participation. Our school thrives on active participation, so parents assume the following responsibilities –
Paying monthly tuition
Attendance at three mandatory parent meetings each year
Supporting school fundraising and awareness activities through committee planning and participation
Joining periodic work days to help maintain equipment, facilities, and grounds
Fundraising activities are not only about money, but also about fostering community within the School and building relationships with the larger community. Parents work together to create an event and the wider community finds a way to connect to the School.  Events raise awareness and promote school enrollment.
"We had the best experience at Ellis Hollow Nature School last year. Ms. Ellie and Ms. Kai carefully created an engaging learning environment, allowing natural inquiry and play-based learning to be at the heart of each day. The program helped our boys connect deeply to the natural world around them, helped form strong connections with their peers, and most importantly gifted our family an undeniable sense of joy each day by knowing how happy the kiddos were to be out in the forest exploring the beautiful trails and learning from nature. We highly recommend EHNS without reservation!"
"We love Ellis Hollow! Outdoor learning is a must in Ithaca. I loved when I took my daughter on a hike, and she could identify plants because she had learned them at school. Ellis Hollow teaches children to trust themselves, gain knowledge, teach preparedness (both to parents and children, learned by having to dress for the crazy weather of Ithaca), and a love/respect for the outdoors."
"Our son's big imagination was set free daily in the magical woods."
"EHNS is so supportive, creative, and child-centered. Our daughter thrived at EHNS. At first she was very shy and not comfortable talking with peers or adults, but Kai and Ellie were so patient and caring that they  brought out her chatty, friendly, silly self. At first I was a little wary of the level of parent involvement, but the other parents were great, helping out was fun, and the school has a wonderful sense of community for the children and their families."
"Our experience at EHNS has been more than magical. Ms. Kai and Ms. Ellie are amazing, attentive, adventurous teachers and we feel so lucky to have had them be a part of our children's lives. Our kids have thrived in an outdoor environment and I wish I could send them here forever!"
"My kids loved EHNS! They spent their days exploring and creating. They learned about the seasons by watching the forest change. They learned about the trees and creeks and critters by watching, feeling, listening and being a part of it all. We are so grateful for the ways Ms. Ellie and Ms. Kai inspired their learning process and for this unique start to our children's education."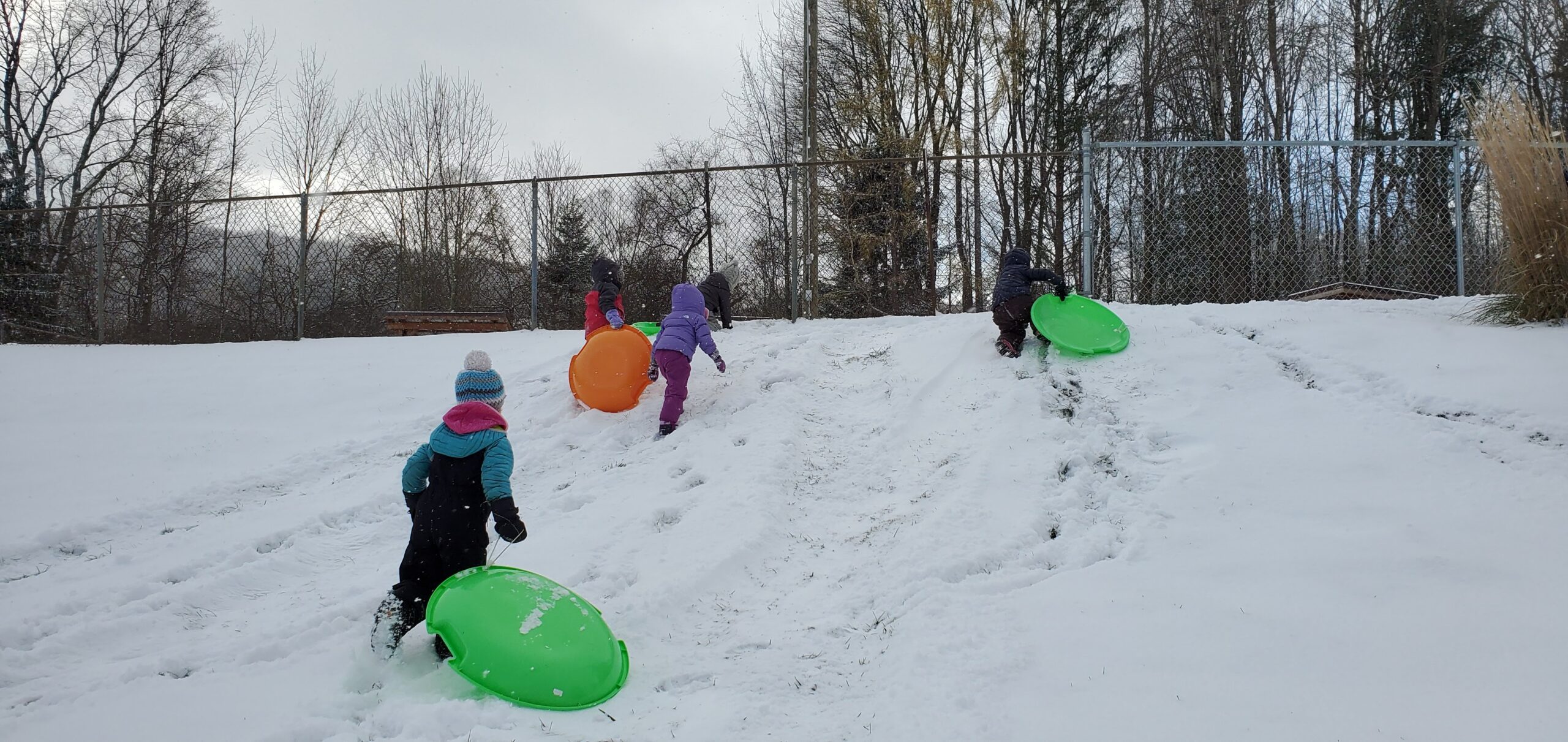 "Our daughter had the privilege of going to EHNS for two years. One inside and one outside. We had some trepidation the year that the school became an all outdoor program. Our daughter worried about being cold, she worried about the rain, and she wanted to be inside with the toys. We went for it anyway, we knew anything with Miss Ellie and Miss Kai at the helm would be great. Still, we couldn't have been more amazed at our daughter's transition. She went from dread to considering herself "an outdoorser" and loving it each day of every week. Thanks to the outdoor education at EHNS she continually impresses us with her knowledge of plants, trees, and creatures of the woods. She says winter is her favorite season and thinks nothing of gearing up and heading outdoors to play in a rainstorm.  If she had it her way she would have stayed at EHNS forever and really, it is a magical place."
"My three-year-old loves nature school. There is nothing better than knowing she is breathing fresh air and learning about the natural world with her friends."
Enrollment
---
Enrollment for the 2023-2024 school year will begin on March 1, 2023!  EHNS Application 2023-2024
The School enrolls children ages 3-6.  All children should be age 3 by the September 1st. Children who turn 3 by December 1st may apply, but enrollment will be determined based on the space available as of June 1st and on teacher evaluation of child readiness for the school curriculum.  Children must be toilet-trained and capable of managing their own bathroom hygiene. Entering children must have all age appropriate, required immunizations.
For 2023-2024, classes are held from 8:45 a.m. to 11:45 a.m.  Class size typically ranges from 12-16 students, with enrollment on some days less, depending on family choice.
We offer 3-day, 4-day, and 5-day options. Parents are able to choose which 3 or 4-days of the week their child will attend throughout the year.  For example, if your child is enrolled for 3 days, you set the 3 days of the week s/he will attend for the year.
TUITION
We believe strongly that all families should be able to choose a preschool program for their children, and all families should have the opportunity to choose outdoor education as a priority.  Because of this, EHNS offers a scaled tuition program, that we hope will make enrollment more attainable for all families. Tuition for the 2023-2024 monthly rates are listed below:
Family Income level (2022 FY)
3 days
4 days
5 days
Less than $60,000
$

242

$

320

$

393

from $60,000 to $120,000
$

298

$

376

$

450

More than $120,000
$

354

$

433

$

506
A $25 application fee is also required with your application. If you are offered and choose to accept a spot, the space is reserved when you return the registration paperwork and a refundable deposit equal to one month's tuition.
Applications are accepted year-round.  Please feel free to reach out to our Registrar with any questions at ellishollowns@gmail.com.
APPLICATION FORM
Please find the 2023-2024 application here: EHNS Application 2023-2024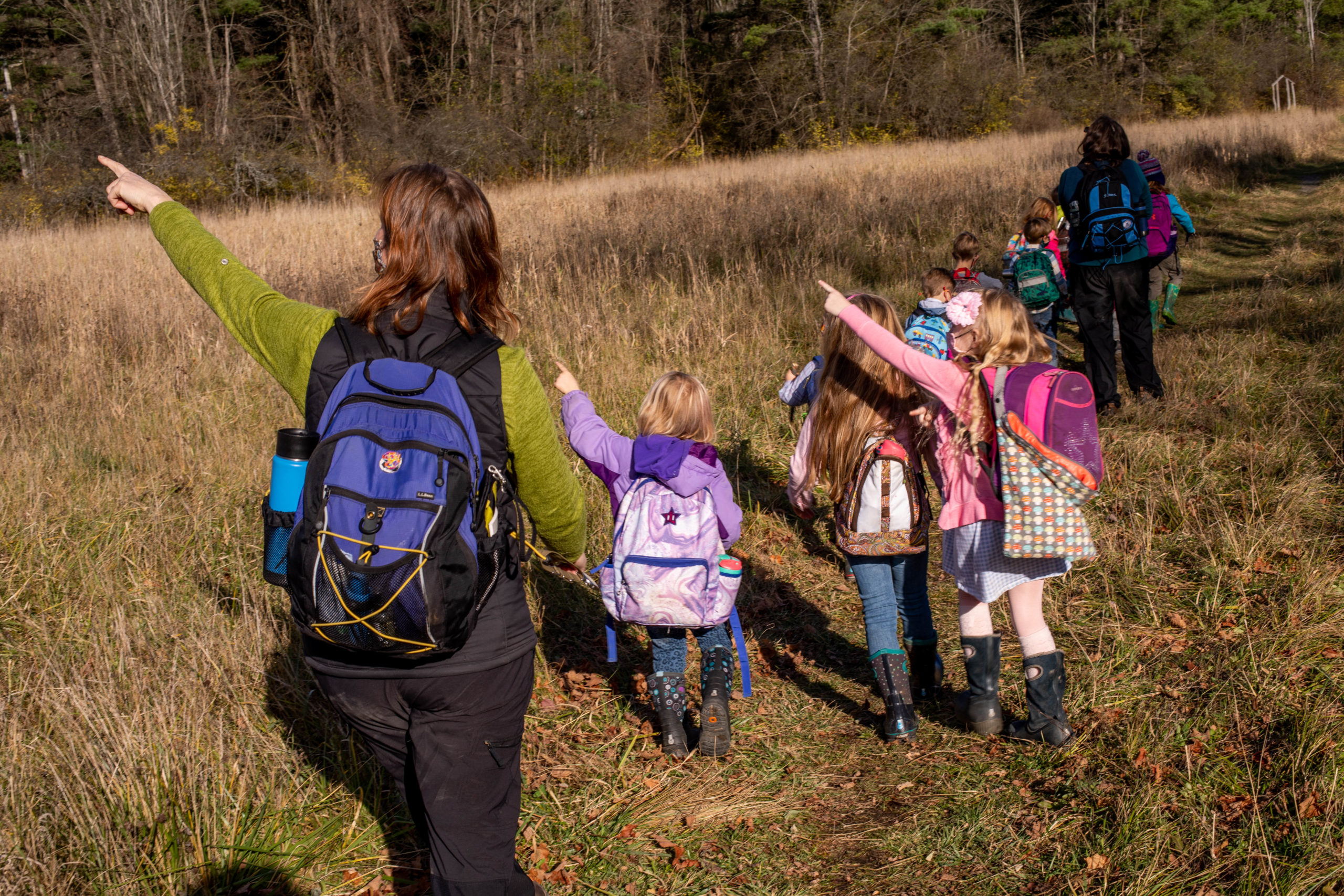 Donate & Support
---
There are different ways to help donate and support the Ellis Hollow Nature School
Make a donation! All donations are tax-deductible and a receipt will be provided. Checks can be made payable to EHNS and mailed to 111 Genung Road, Ithaca, NY 14850. We also have Venmo @ellishollowns, or you can make a donation through our site right here!
A very heartfelt thank you for all of the support from donating businesses and organizations to bidders and private donors for the Ellis Hollow Nature School's 5th Annual Online Silent Auction.  The auction closed on December 13th and brought in $4, 265.01!  We could not have done this without you, thank you for making our fundraiser a great success!
Did you miss our feature on the radio?  Carl Neff of 97.7FM WHCU Ithaca's Evening News featured our school and auction.  You can listen to it at: Radio Spot on 97.7
And if you didn't see our brief in the December 8th issue of Tompkins Weekly, find it here at: Tompkins Weekly Brief Feature
2021 Silent Auction Donors, Over 60 Donors!
Alphabet Soup, $20 gift certificate
Andrelle's Natural Skin Care, $150 gift card
Applebees, two $10 gift certificates and a coupon for free mozzarella sticks ($29 value)
Argos Inn, gift certificate for a one-night stay ($165-$285, value depends on rate when redeemed)
Artkive, $50 credit good towards any box
Autozone, Ultimate Car Wash Bucket of Supplies ($53 value)
Basic Fun, assortment of amazing children's toys: Joker Prank Shop ($10), 2019 Comic-Con Exclusive My Little Pony Majesty (Price Varies), Cutetitos Babitos Mascota ($13), Pound Puppies Newborns ($13), 207 piece K'nex set ($40)
Bike bar, official t-shirt and hat merchandise ($47 value)
BJ's Wholesale Club, 1 year membership ($55 value)
Botanist Café, $50 gift card
Brookton's Market, $20 gift certificate
Cayuga Chamber Orchestra, 4 tickets to any show ($120 value)
Chili's Grill & Bar, gift cards totaling $20
Clay School of Ithaca, one 2-hour one-on-one pottery lesson with Clay School teacher ($150 value)
Copper Horse Coffee, coffee + mugs
Cornell Botanical Garden & Finger lakes Native Plant Society (FLPS), membership to FLPS and seed packets from Cornell Botanical Gardens ($50 value)
Cornell Cinema, 4 Guest Passes to the remaining 2021 season and the spring 2022 season ($38 value)
Cornell Lab or Ornithology, Support Level Membership ($44 value)
Daisy Hollow Farm, Farm Tour for 6 ($60 value)
Discover Cayuga Lake, Cruise for Two Adults ($80 value)
Ellis Hollow Community Center, Family Pool Membership ($325 value)
Entomology Department at Cornell University, Private Insect Tour for 6 People (priceless value)
Entomology Department at Cornell University, Insect Bug collecting Kit ($25 value)
Finger Lakes Cider House, 4-pack of cider ($72 value)
Gathre, Mini Numbers Mat ($65 value)
Gimme Coffee, 2 bags of coffee + mug ($46 value)
HABA Toys USA, Child's airplane swing ($149.99), Wooden Mobile Rainbow Balls ($49.99), Orchard Game ($49.99), Rainbow Whirls Pegging Game ($34.99), Musical Eggs ($34.99)
Hangar Theater, 2 tickets to any show ($90 value)
Head Over Heels Gymnastics, $50 gift certificate for open play sessions
Home Depot, $50 gift certificate
Home Green Home, $25 gift certificate
Ithaca Agway True Value, two $25 gift cards ($50 value)
JellyCat, two "Really Big Leffy Elf" stuffed animals ($100 each, $200 value)
Juju Beauty, $50 gift certificate
La Bodega, two $25 gift cards
Liquid State Beer Company, $20 gift card, 2 tulip drinking glasses and logo sticker ($34 value)
Local First Ithaca, 2022 Coupon Book ($15 value)
Lowe's Home Improvement, Craftsman wet/dry 5 gallon shop vac ($90 value), Pre-lit Christmas Wreath ($50 value), DeWalt Drill with 2 rechargeable batteries ($159 value)
Maguire Automotive, Coupon for 1 Showroom Shine Detail ($199.99 value)
Mansour Jewelers, $100 gift certificate
Marriott – Ithaca Marriott Downtown on the Commons, one night stay in a queen or king room + valet (value ranges on rates when redeemed, from $143 to $534)
Mighty Yoga, 5 class pass ($99 value)
Museum of the Earth, Family Membership ($80 value)
Ned's Pizza, $25 gift certificate
Northside Wine & Spirits, 1 bottle Parini Prosecco Rose Brut, 1 bottle 2017 Bixby Creek Bridge Cabernet Sauvignon ($26 value)
Oaki Children's & Adult Adventure Gear, $100 gift card
Old Goat Gear Exchange, $35 gift card
Purity Ice Cream, two $50 gift certificates ($100 value)
Radians, 4 dozen pairs of Children's Gardening & Project Gloves ($5-7 each)
Red Feet Wine, 3-pack wine box ($35 value)
Reis Tennis Center, 3 memberships and 3 1-hour blocks of court time (up to $345/membership, $50/hour court time, totaling $150 worth of court time)
Satori Salon, $50 gift card
Squeaky Clean Car Wash, three coupons for the complete car wash package ($19 each, $57 value)
Starbucks on the Commons, three bags of Starbucks coffee ($40 value)
T-shirt Express, certificate for a Ithaca is Gorges t-shirt ($14.95 value)
Target, $75 gift card
Tompkins Recycle & Waste Management, GEOBin Compost Kit ($37 value)
Tops, $30 gift card
Trader Joe's, selection of Trader Joe's goodies ($32 value)
Wegmans, $100 gift card
Wide Awake Bakery, 10-week breadshare ($57.50 value)
YMCA Ithaca, 1-month family membership ($92 value)